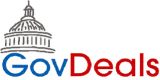 Click the image above to visit the GovDeals page
On November 17, 2005 the Board of Huron County Commissioners entered into an agreement with GovDeals, Inc.to provide online auction services.
Huron County hereby creates the following rules pursuant to the Ohio Revised Code 307.12:
The Huron County Board of Commissioners has determined that surplus property including motor vehicles acquired for the use of County offices and departments, and road machinery, equipment, tools or supplies, which is not needed for the public use, or is obsolete or unfit for the use it was acquired is appropriate to be sold by Internet auction, and Resolution 06-004, dated January 5, 2006, the Board of Huron County Commissioners declared its intent to sell property through the Internet.
The auctions shall be conducted on a continuous basis through accessing the Huron County surplus property through the Huron County website located at www.hccommissioners.com double click on the Gov Deals icon. The surplus items shall be posted for fifteen days including Saturdays, Sundays, and legal holidays.
The County will also post a notice of such Internet auction on the County bulletin boards on a continuous basis.
A notice will appear continuously on the County's website that surplus property is available through the Internet auction.
All property is offered for sale "AS IS, WHERE IS". County of Huron makes no warranty, guaranty, or representation of any kind, expressed or implied, as to the merchantability or fitness for any purpose of the property offered for sale. The Buyer is not entitled to any payment for loss of profit or any other money damages – special, direct, indirect or consequential, and the County has the right to reject any and all bids and to withdraw from sale any of the items listed.
HURON COUNTY BOARD OF COMMISSIONERS
Cheryl Nolan, Administrator/Clerk